Basketball's tapestry is rich with luminaries who've left an indelible mark on the sport. While current superstars are always in the spotlight, the echoes of past legends, like Kareem-Abdul Jabbar, Wilt Chamberlain, and Bill Russell, reverberate through history. Yet, before them, a towering figure named George Mikan stood tall, shaping the game's trajectory.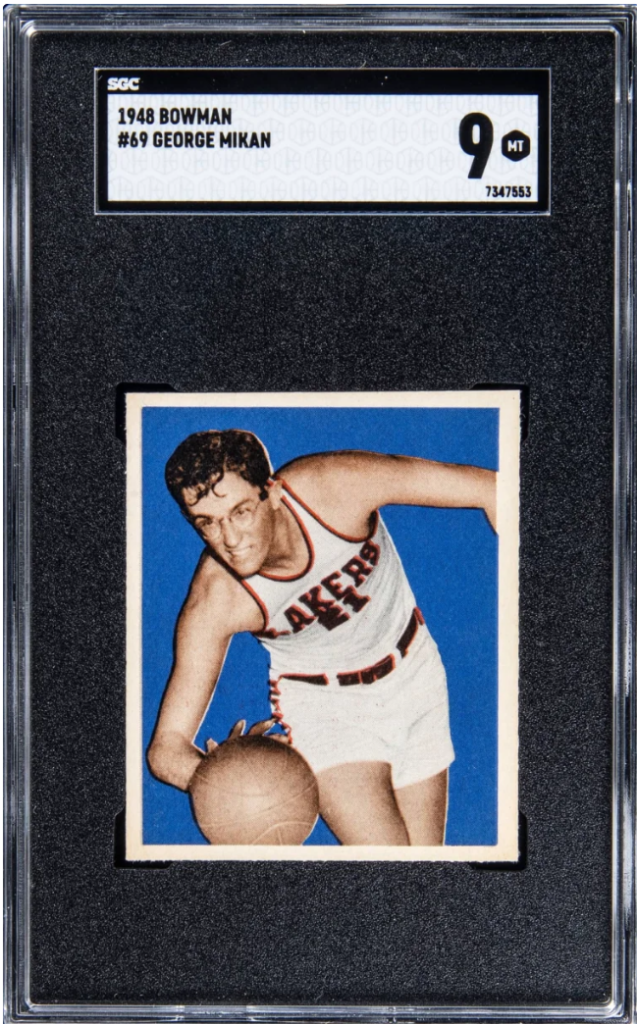 Hailing from Joliet, Illinois, Mikan first left his basketball imprint at DePaul University. Later, as he transitioned to the NBA in its budding years during the 1940s and '50s, he redefined the role of centers. Standing at an imposing 6-10, his performances during 1948-1951, averaging around 28 points, were monumental. By his retirement, the stats spoke volumes, with averages of 23.1 points and 13.4 rebounds per game.
The year 1948 marked a significant juncture in basketball memorabilia when Bowman unveiled its inaugural set of basketball cards. Though it lasted only a brief period, this collection has since gained an aura of rarity among aficionados. from Sports Card News
The crown jewel of this set is Mikan's prized rookie card. Its stature in the collector's realm became evident when a PSA 9 graded card fetched a staggering $800,000 on eBay, rewriting auction annals.
Its legacy remains intact. At a recent Goldin auction, an ISA MINT 9 graded 1948 Mikan rookie card commanded a remarkable $228,000, underscoring its unparalleled status in card grading services.
But Goldin's event wasn't just about Mikan. A snapshot of a fledgling Michael Jordan, the 1984-85 Star #101 rookie card, garnered $144,000. And a nod to baseball's bygone days, a 1916 Babe Ruth card, sold for a whopping $288,000, establishing a precedent for its class. If you are looking to sell your sports cards.
Such auctions are more than mere transactions; they're emblematic of the profound respect for legendary figures in sports. It's heartwarming to recognize that, amid today's emerging talents, stalwarts like Mikan are still celebrated. These cards, far from mere collectibles, serve as windows to iconic moments and athletes, immortalizing their contributions to the world of sports.